Professional Training Solutions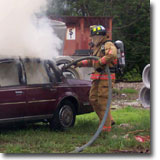 LB Training Associates, Inc. is committed to providing dynamic training opportunities to public safety personnel and private contractors. We offer courses for Firefighters, Fire Inspectors, Fire Instructors, Fire Equipment Dealers, Fire Protection Contractors, Community Association Managers and Health Care Professionals. All of our courses are pre-approved from the appropriate government agencies, ranging from the State Fire Marshal to the Department of Business and Professional Regulation. Courses are offered "live" at various locations in South Florida, as well as online for those with a demanding schedule. If you're looking for a course we don't yet offer, please let us know and we'll work on coming up with a solution for you!
Upcoming Courses
2 New Online CEU Courses Available!
Click the title of each course for a description.